Lance Sergeant Baskeyfield landed on Monday, September 18, the second day of Operation Market Garden, together with the support company of the 2nd Staff of the South Staffords. On Tuesday morning, September 19, the South Staffords, along with three other British battalions, had made an ultimate attempt to reach the Rhine Bridge via the Bovenover and the Onderlang, where the battalion led by Colonel John Frost occupied the north side of the bridge.
After the attack of the four battalions at the intersection Bovenover-Onderdeur in Arnhem was repelled by the Germans, Baskeyfield returned to Oosterbeek along with the remainder of the South Staffords.
On the morning of Wednesday, September 20, Baskeyfield operated a 6-pounder anti-tank gun on the corner of Acacialaan and Benedendorpseweg in Oosterbeek. Here the British had placed multiple cannons to attack German armor from the north and east.
When the Germans attacked the Benedendorpseweg that morning with tanks and supporting infantry, Baskeyfield managed to take out several light armored vehicles, tanks and Sturmgeschütze with his cannon.
The gun and crew commanded by Baskeyfield were then attacked by German tanks. One of the grenades fired at the cannon killed the entire crew. Baskeyfield was seriously injured in the leg. However, this did not stop him.
Further down Acacialaan he saw another anti-tank gun with the crew disabled. The gun was still working, so Baskeyfield literally dragged it with his injured leg. He was constantly shot at by German soldiers, but the persistent Briton managed to reach the second cannon and alone fired one grenade after another at the German positions. He managed to disable a German Tiger tank.
Baskeyfield's body was never found, but is believed to have been killed when the second anti-tank gun was hit by German grenades. His Victoria Cross entry on Baskeyfield states:
"he despised danger, ignored pain and his extraordinary fighting spirit inspired everyone who beheld his behavior."
The 'Baskeyfield tree' is now on the corner of Acacialaan with Benedendorpseweg, the place in Oosterbeek where the cannon that served Baskeyfield served. In his birthplace Stoke on Kent, Baskeyfield is honored with the monument below.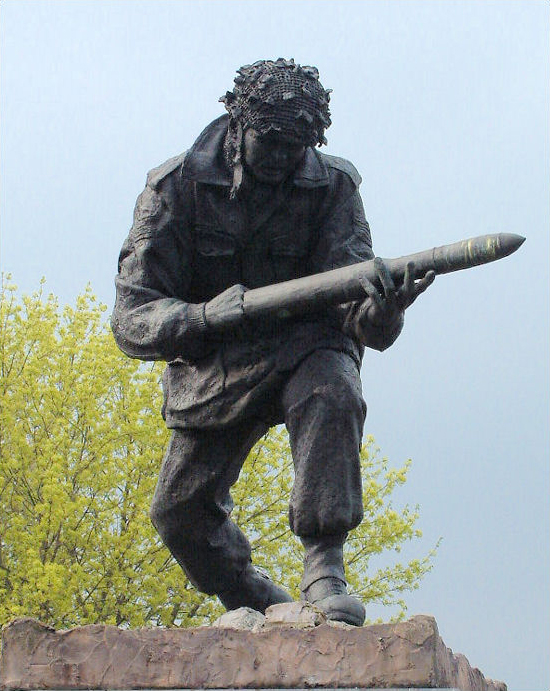 The five Victoria Crosses during the Battle of Arnhem were awarded to:
Lieutenant John Hollington Grayburn
Flight Lieutenant David Samuel Anthony Lord
Lance Sergeant John Baskeyfield
Captain Lionel Queripel
Major Robert Henry Cain .