On Friday September 23, 1944, the German army command ordered that Arnhem be evacuated. The Germans assumed that the Allies would make a new attempt to conquer Arnhem.
The 90,000 residents of the city were given until 8:00 PM Monday to leave the city. The population was informed of the evacuation order via stencils that were put on trees.
A huge flow of refugees is starting immediately after the announcement. Most of the photos below are by the Arnhem photographer P. J. de Booys who depicted the evacuation. Many of his photos can be found in the Dutch book "Through the lens of De Booys".
---
While people from Arnhem are charging a pushcart with belongings in front of their house, evacuees pass by with a portable on which a child is lying. The photo was taken in Beethovenlaan.
---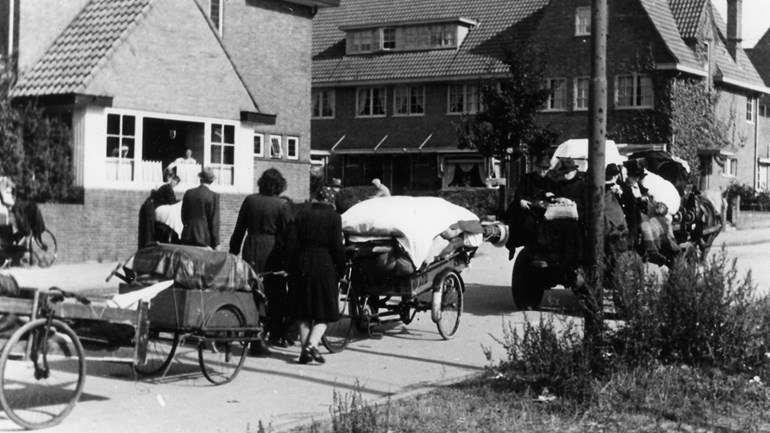 A little further on Beethovenlaan, Arnhemmers walk out of the city with handcarts full of things. Most people left on foot or with fully loaded bicycles. Few people had a car, but fuel was no longer available in 1944.
---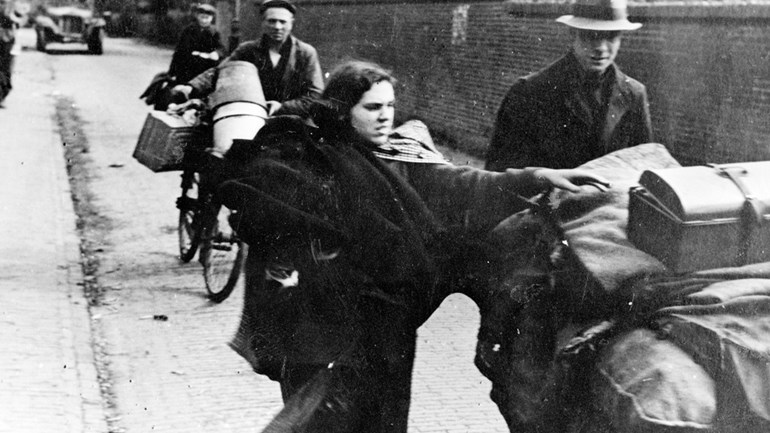 Evacuees on the Klingebeekseweg.
---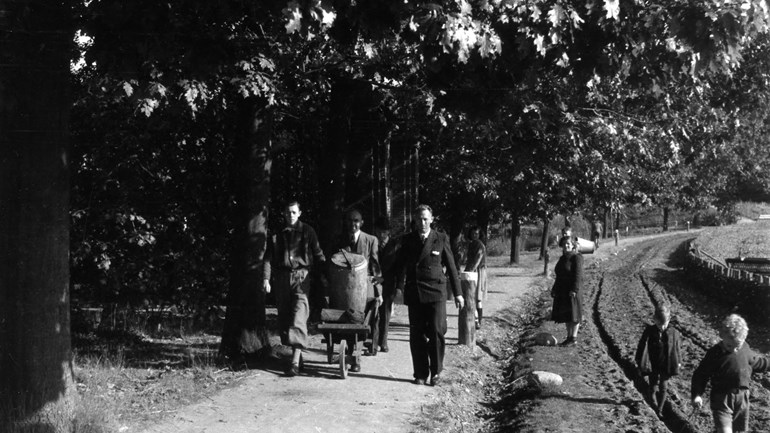 ---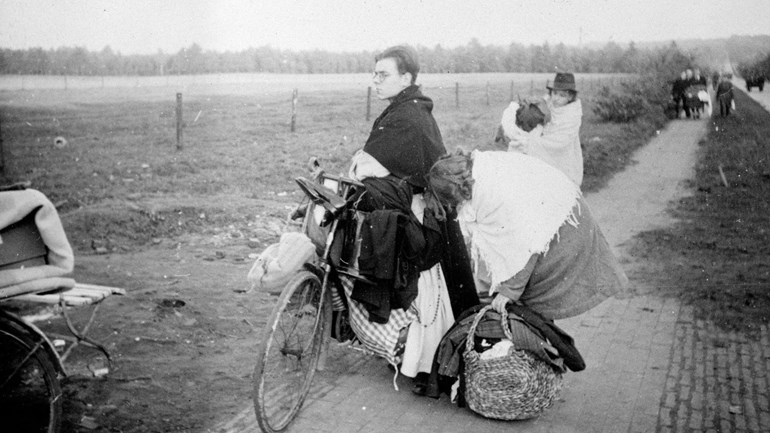 Arnhem evacuees on the Amsterdamseweg in the direction of Ede. The photo was taken near the current Van der Valk restaurant. A little further south of this place, less tham a mile away, there was still heavy fighting between German soldiers and the British airbornes in Oosterbeek.
---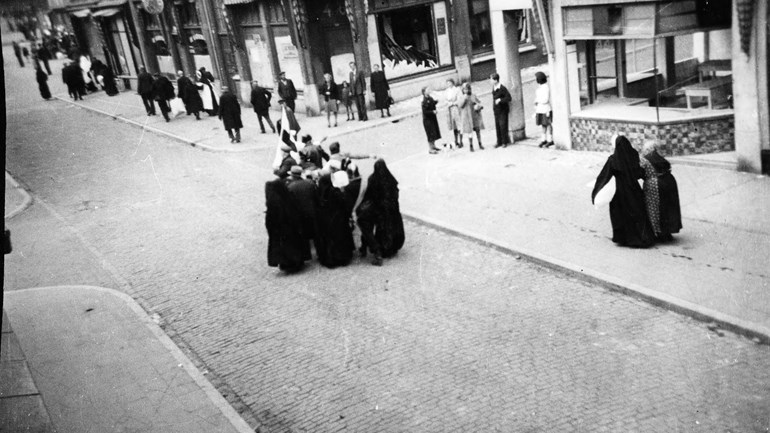 Evacuees walk through the Hommelstraat. Most Arnhemmers opted for an evacuation to the north. Many people from Arnhem ended up in Apeldoorn. Because there were already many refugees there, many people from Arnhem were sent on further. Until Friesland, 120 miles from Arnhem.
---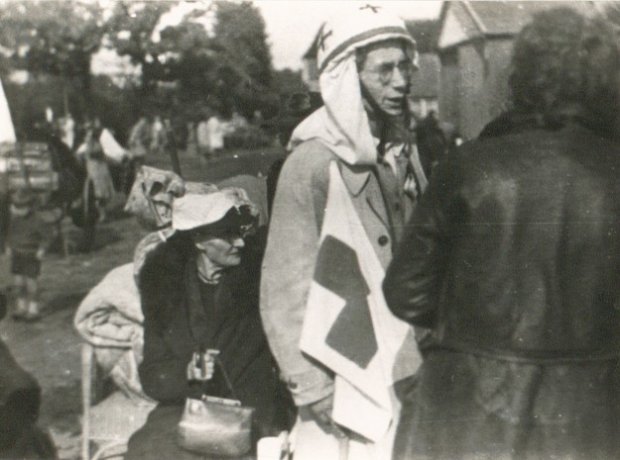 Employees of the Red Cross tried to help the refugees from Arnhem as best they could. Remarkable: the Red Cross worker in the photo is wearing an English paratrooper helmet.
---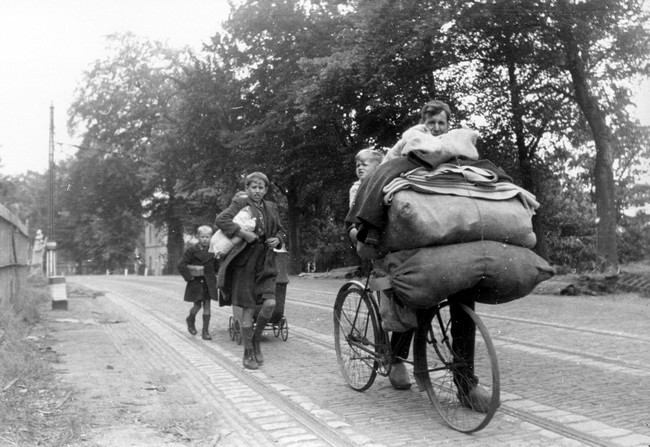 Two evacuees from Arnhem arrive in Apeldoorn.
---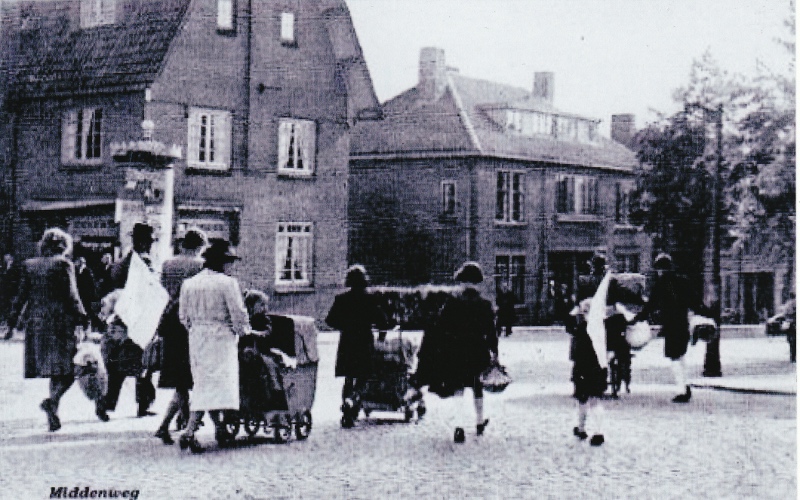 Evacuees on the Middenweg. Many people from Arnhem had responded to the appeal of the Red Cross to carry white flags. This made it clear that the inhabitants were not a target for German or Allied aircraft. Incidentally, some people died between Arnhem and Apeldoorn when the column of refugees was shot at by an airplane.
It has never been 100 percent clear whether this was a German or an Allied aircraft, but the shooting appears to have been carried out by a German fighter.
---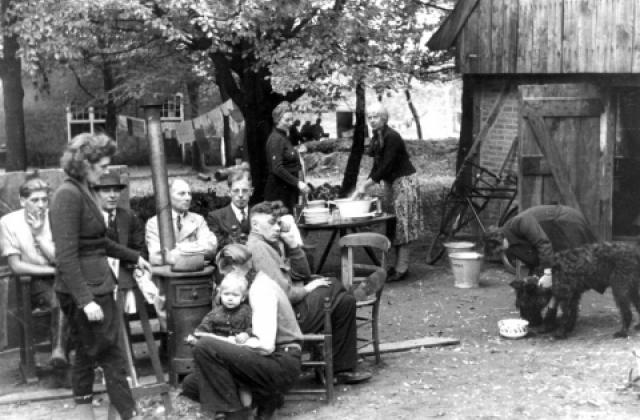 About 600 Arnhemmers found temporary accommodation in the socalled 'Open Air Museum' on the north side of Arnhem. On November 3, all refugees had to leave the site on the orders of the Germans. In the end, 80 people could still stay.
At the liberation of Arnhem in April 1945, the Open Air Museum was populated by about 150 evacuees.